The GPS tracker ZEN by Beepings is a low-frequency GPS locator that works throughout Europe thanks to the Sigfox network.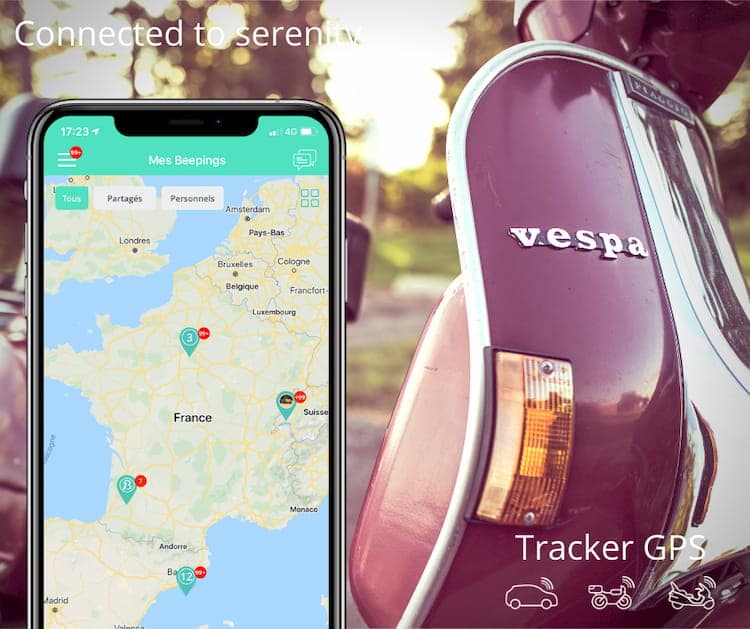 It improves the daily life of many of its users by protecting their scooters against theft or damage. Its unique technology places it as one of the first European connected objects used against theft, as it is equipped with an anti-jamming system that allows it to remain connected to the SIGFOX network. 
This means that even if thieves cut the signals of the scooters, they can still be traced thanks to the SIGFOX network used by the GPS tracker ZEN by Beepings.
Thanks to its technology, the GPS tracker doesn't require any SIM card and includes a 3-year subscription in its offer and in surveillance mode, its autonomy can go up to 1 year.
The Beepings application includes many features such as the ability to define a perimeter for the entry or exit of a scooter from its area. The Beepings application also allows you to share the localization of your scooter with your friends and family. Thus, several users of the vehicle can be registered and share the data of their journeys.
In addition, the Beepings application gives the possibility to receive immediate notifications when suspicious movements are detected and to consult all scooter movements recorded by the tracker with a history saved for up to 1 year. 
Accessories for your Beepings 
Listening to our customers, we now offer a 12V or 24V converter to connect a Beepings to your scooter. The Beepings will charge itself in an autonomous and intelligent way while preserving the scooter's battery.
Some ideas to use our Beepings and the application
A movement detected almost instantaneously
You park your scooter in the street and want to make sure it doesn't move? Thanks to the integrated motion detector you will be instantly alerted by notifications on your smartphone in case of suspicious movement. 
An SOS button in case of trouble
An unexpected failure and you have no battery left on your phone? With the SOS button and sharing between users, the Beepings application associated with the ZEN by Beepings tracker will send alert messages to the people of your choice while updating your GPS coordinates.
An alert perimeter that helps
Are you a parent and your children travel by scooter? With the alert perimeter you can set up an alert for entering or leaving a zone and thus be reassured about your children's movements.
Here you can also find out how the tracker GPS ZEN by Beepings can be used for bags.
Edra
TEAM BEEPINGS