GPS tracker for Honda motorcycle
GPS trackers have become the solution to avoid theft. Today, Honda motorbike theft has become a target for thieves, so to feel safe and secure when you leave your Honda on the street, it's important to equip it with a GPS tracker. GPS trackers are a simple and effective way to protect your Honda motorbike. You can usually install it yourself very quickly, so you can leave your bike anywhere you go with confidence. So for your peace of mind, we strongly recommend using a GPS tracker for your motorbikes.
Why equip your moto Honda with a GPS tracker?
The Honda brand has many motorbike models such as the CB 350, CBR or the new NT1100 road bike, which do not provide their customers with a tracking system to follow their journeys. GPS trackers are the best solution to equip your Honda motorbike and protect it against theft. Honda is the most stolen motorbike brand in the UK, so if it is stolen, it is essential to protect your Honda with a GPS tracker, so it can be followed in real time and recovered quickly thanks to this geolocation system. What's more, it's an easy to install security feature that can only benefit you and your Honda motorbike.
How to
choose the most suitable tracker

for your moto Honda ?
Choosing the best GPS tracker for your Honda is not easy, there are a multitude of GPS trackers, as they all have different features. So, we will discuss the different GPS tracker criteria to consider before making your purchase. First of all, you should consider different price ranges as not all of them are equal and do not have the same features. Some GPS trackers are less expensive because they have fewer features, while the more expensive ones offer many advantages to your Honda. Secondly, make sure that the size of the GPS tracker you select fits in a safe place in your Honda and that it does not block the signal in order to send alerts correctly. Indeed, some GPS trackers require complex installation which can quickly become a headache. For this reason, we recommend that you choose a GPS tracker that is easy to install and may have instructional videos to help you install it on your bike. Regarding additional costs, some brands use low frequency networks, others use a SIM card. The use of a SIM card implies a subscription and therefore an additional cost to the initial price of the tracker. We recommend that you read the terms of use carefully before purchasing a GPS tracker for your Honda motorbike. The battery life of the GPS tracker varies depending on the brand. With a long battery life, it is possible to make long journeys without having to recharge the tracker too regularly. Some trackers have a short battery life and need to be recharged frequently, which means that you will have to remove it from the vehicle, thus depriving you of its main function, which is to protect your Honda motorbike against theft... Make sure that the GPS tracker you choose has a battery life that is suitable for your use so that you do not have to remove it from your Honda too often.
Free application

Beepings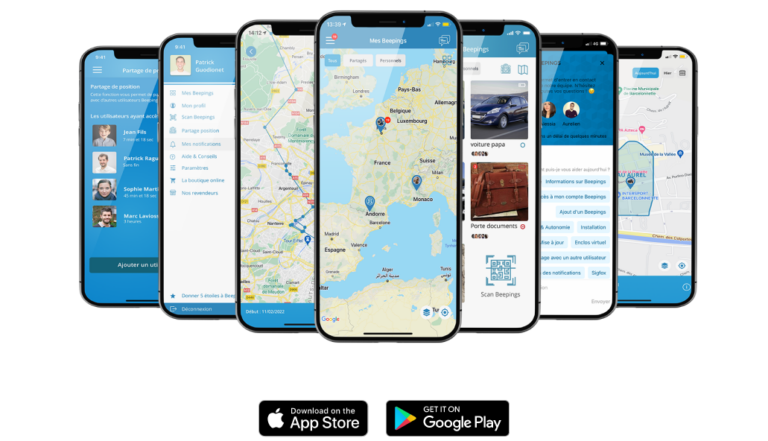 t's time to make the right choice for your Honda motorbike. Now we can tell you which GPS tracker is best suited to your needs and your bike, whatever the model. The ZEN L by Beepings GPS tracker offers you many features at a reasonable price. What's more, the subscription is included for 2 years, after which it will cost you 9,90€ per year, which is still a good value for money for the safety of your Honda motorbike. The Beepings GPS tracker works with the Sigfox low frequency network, so it is very difficult for thieves to jam its signal. This network is available throughout Europe and is constantly expanding, allowing you to travel safely with your Honda motorbike to other European countries. The battery life of the ZEN L by Beepings GPS tracker is very good, ranging from 2 months to a year, depending on how often you use it. This is a very high battery life compared to other GPS trackers on the market, which generally have a battery life of up to 6 months. The Beepings GPS tracker is so accurate that if your Honda is stolen it can be found almost anywhere in Europe. Its design allows it to be placed in strategic locations on your Honda motorbike, while still allowing the signal to pass through to transmit your GPS location. It's easy to install thanks to its magnetic attachment, which allows you to easily remove the tracker from its location and replace it as many times as you like. Finally, the Beepings application is very intuitive and easy to use. You'll find all the features of the ZEN L by Beepings GPS tracker: sharing your Beepings with other users to follow your journeys and receive your alerts, managing virtual enclosures to be alerted as soon as the Honda motorbike leaves the defined area and receiving your movement alert notifications. Even more features await you in the free Beepings app, available on iOS and Android.
The most competitive
tracker on the market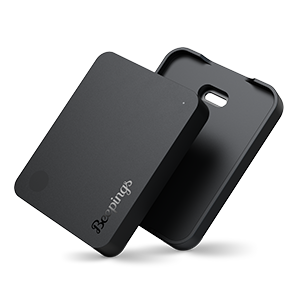 2 years subscription
included (then 9,90 €/year)
Where to buy

a ZEN L by Beepings tracker?
To buy the Zen L by Beepings tracker now, you can visit our retail shops such as Feu Vert, Point S, Norauto, Autobacs or directly online on our website: https://beepings.com/fr/.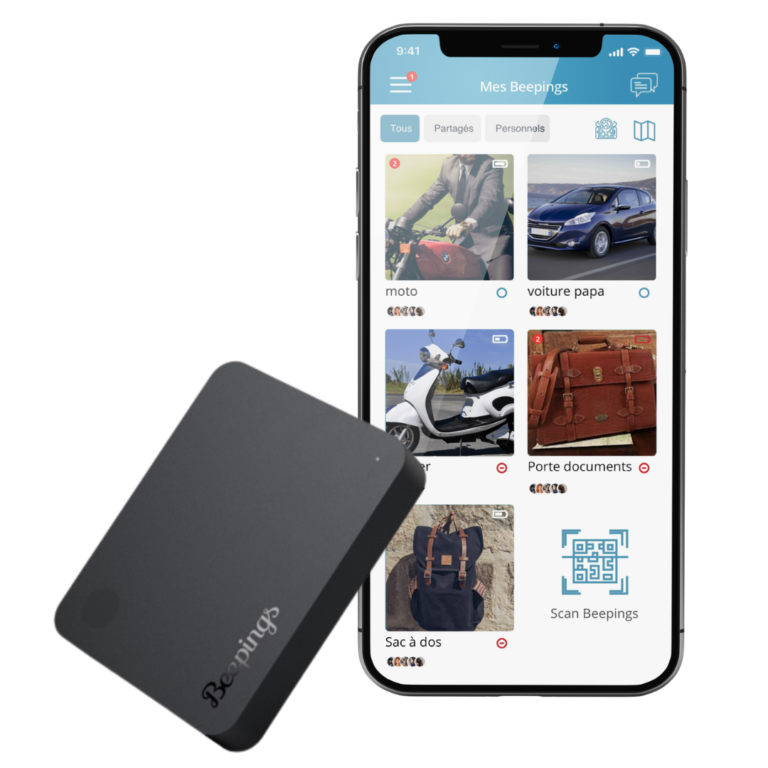 GPS tracker

ZEN L by Beepings
Up to 1 year autonomy
Anti-jamming system
Anti pullout support
Anti-theft alerts thanks to motion detection
Geolocation in Europe
SOS button
Sharing position between users
Alert perimeters
Travel history
Update OTA
Free application included
2-year subscription included